Pequaywan Township was formed in 1980 from a 36.1 square mile area within the Cloquet Valley State Forest in St. Louis County. (See "Pequaywan History" for more information on township history.) It is governed by a Board of Supervisors, consisting of three full-time residents.  Other government officials are the clerk, treasurer, deputy clerk and deputy treasurer.
Residents vote for officers on a rotating schedule, three-year term for supervisors prior to the Annual Meeting, held in March. Clerk and treasurer are on appointed positions.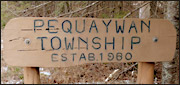 Board meetings are regularly scheduled second Tuesday of each month  at 7:30 p.m. in the meeting room of the Pequaywan Lakes Volunteer Fire Department, 8764 Pequaywan Lake Road (Hwy 44), Duluth (except during the COVID-19 pandemic, wherein meetings are held via teleconference). (Check the calendar for dates and time.) Residents are invited to attend these meetings which are governed by the Minnesota Open Meeting Law. Residents also vote on the township's tax levy at the Annual Town Meeting. Minutes of these meetings and notices of any ordinances adopted by the Board will be published on this website.
The main business of the township consists of:
Maintenance of a 2.3-mile stretch of West Branch Road (See map.)
In conjunction with St. Louis County, the assessment of property within the township for the purpose of taxation
Administration of a 34.23-acre parcel of land, bordered by Pequaywan Lake Road and a line south of Rossini Road (See map.)
Supervision and administration of elections for local, county, state and federal elections
COVID-19 RESOURCES, UPDATES & VACCINATIONS
Minnesota Department of Health: Find Vaccine Locations
Centers for Disease Control and Prevention (CDC)
Minnesota Department of Health (MDH)
MDH hotline: 651-201-3920  OR  1-800-657-3903. Available 7 a.m. to 7 p.m.
St. Louis County COVID-19 website
Hotline for the general public:   218-625-3600. Available 8 a.m. – 4:30 p.m.
Email for the general public:   PublicHealthPHP@StLouisCountyMN.gov
If someone is experiencing symptoms, they should contact their healthcare provider to be screened. If they are planning to go to the ER, they should call first.
Essentia Health Emergency Room:   218-786-4000
Essentia COVID-19 Hotline:   833-494-0836
St. Luke's Emergency Room:   218-786-5616